The photo contest is over
Thank you to everyone who participated. We'll announce the winners on April 22.
To celebrate Black Maternal Health Week 2023, HRSA is hosting its first photo contest!
Why we are hosting this competition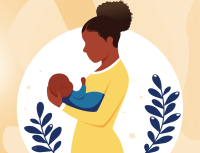 HRSA is proud to engage in activities for Black Maternal Health Week to build awareness and highlight the contributions of HRSA award recipients as they create better health outcomes for Black women before, during, and after pregnancy.
What we are looking for
We are looking for your best photographs that capture how you are improving health outcomes for Black women before, during, and after pregnancy.
Submissions may include a variety of activities and settings, for example: clinical settings, home visits, doula services, community events, and research, just to name a few. We encourage your creativity in capturing photos that showcase contributions, activities, events, or programmatic efforts.
Submission period closed on Monday, March 27, 2023 at 11:59PM ET.
Important information on consent and permissions
By submitting your photo, you are agreeing to all contest rules set forth in the section, 2023 HRSA Photo Contest Rules. You acknowledge that these contest rules include but are not limited to: attesting to your ownership of the photographs; obtaining a release from individuals appearing in the photographs (or, in the case of minors, from their parent or guardian) for all purposes set forth in the contest rules; and agreeing to the use of the photographs for federal purposes as further described in the contest rules. As listed in the rules, this is the Department of Health and Human Services Authorization to Take and Use Photographs and Information Form (PDF - 722 KB).
Eligibility
The contest is open to all HRSA grantees, contractors, and cooperative agreement recipients.
Each entrant may submit up to two photos. 
Instructions
Please send photos as email attachments to photocontest@hrsa.gov, with the subject line "2023 Black Maternal Health Week Photo Contest." 
In the email body, include the following for each picture: 
Name and email address of person submitting photos.
Name of program or project and organizational affiliation; also include HRSA program affiliation (meaning which HRSA program you receive funding from).
Location: city and state.
Describe who is in the photo and what is happening. In the description include how the photo advances Black maternal health, a key component of HRSA's mission.
How winners will be selected and announced
Three winning photos will be announced on HRSA social media channels during Black Maternal Health Week (April 11-17, 2023) and will be featured on the MCHB website.
Entries will be judged on photo composition, originality, and their relevance to championing Black maternal health. No additional funding or prizes will be awarded.
2023 HRSA photo contest rules
Contest open only to legal residents of the United States, the District of Columbia, and other locales under United States jurisdiction including Puerto Rico, Guam, American Samoa, Commonwealth of the Northern Mariana Islands, and U.S. Virgin Islands. Participants must also be at least eighteen (18) years of age. If you do not meet any of these requirements, or any other eligibility requirements in these official rules, then you are not eligible to participate in this contest.
Photos must be submitted as a JPG or PNG file. Photos sent inside a Word document or PDF will not be accepted. 
Please send the highest resolution photo possible with no overlaid text, logos, or filters. 
Photos submitted without all requested information in the Instructions section will not be considered. 
Photos must depict activities supported by HRSA programming or resulting from HRSA programming.
Please limit the total number of your photo submissions to two entries. Any additional entries received from the same individual exceeding two photos will be disqualified. 
For any photograph submitted in which a person is recognizable, you must secure a release from the subject or, in the case of a minor, the subject's parent or guardian and, upon request, provide it to HRSA. This is the Department of Health and Human Services Authorization to Take and Use Photographs and Information Form

(PDF - 722 KB)

.
By submitting a photo, you certify that you are the owner of the photo and have the right to publish it. You agree that it is your sole responsibility to obtain all permissions necessary to share the photo and the photo does not include or disclose any trade secrets, proprietary information, or other confidential information. 
Photographs must not endorse or be perceived to endorse a commercial product or service. This includes, but is not limited to, the display of brand names or trademarks on any people, equipment, or other objects visible in the photograph. 
HRSA has no obligation to publish or use or retain any photographs you submit or to return any photographs to you. 
By submitting a photo, you are granting HRSA and persons acting on its behalf royalty-free rights and license to use, edit, publish, and display the photo in any medium, such as on our website, on social media, and in other HRSA publications for the contest and also for future reproduction in perpetuity at HRSA's discretion. 
You grant HRSA the right to use information that you provide as part of your submission, including but not limited to your name, city, and state/territory.
General Release. By entering the contest, you release and hold harmless the U.S. Department of Health and Human Services, HRSA, from any liability whatsoever, and waive any and all causes of action, related to any claims, cost, injuries, losses, or damages of any kind arising out of or in connection with the contest or delivery, mis-delivery, acceptance, possession, use of or inability to use any prize (including, without limitation, claims, costs, injuries, losses and damages related to personal injuries, death, damage to or destruction of property, rights of publicity or privacy, defamation, or portrayal in a false light, whether intentional or unintentional), whether under a theory of contract, tort (including negligence), warranty, or other theory. 
Entrants who violate or fail to comply with these Full Contest Rules; violate any law, rule, or regulation in connection with participation in the contest; tamper with the operation of the contest, or engage in any conduct that is detrimental or unfair to HRSA, the contest or any other entrant (in each case as determined in HRSA's sole discretion), are subject to disqualification from entry into the contest. If you have any questions about these Full Contest Rules or the contest, please email them to photocontest@hrsa.gov.
Miscellaneous. The contest and these Full Contest Rules will be governed, construed and interpreted under federal laws. Entrants agree to be bound by these Full Contest Rules and by the decisions of HRSA, which are final and binding in all respects. HRSA reserves the right to change these Full Contest Rules at any time, in its sole discretion.