The MCH NAVIGATOR provides state public health professionals with free, competency-based learning and tools on key skills necessary to carry out their daily work and improve the health of children and families. The MCH Navigator has practical learning strategies for every type of learner in multiple sessions: self-directed, semi-structured, self-reflective, and fast/interactive. Learners can track their learning through an online self-assessment tool and participate in short bursts of group learning.
---
Health Transformation
The Health Transformation Learning Laboratory is a collaboration of the National Maternal and Child Health Workforce Development Center at UNC Chapel Hill (the Center) and the MCH Navigator; it serves as a repository for universal training resources/online learning materials in support of the Center's activities.
The Center currently focuses on three main topics:
Change Management and Adaptive Leadership
Evidence-Based Decision Making
Systems Integration.
In addition, the Center has developed a number of learning resources focused on topics during its first funding cycle (2013 - 2016) that include Access to Care and Quality Improvement. In addition, the Center offers a Pipeline Program to enhance training and networking opportunities for graduate and undergraduate students and promotes Family Engagement and Health Equity in all of its activities.
Visit the Health Transformation Learning Laboratory
---
Microlearning Program
Public Health Pronto Learning Program utilizes the successful 5-minute microlearning format to equip professionals with the basic background of the Core Competencies for Public Health Professionals, skills needed to address health transformation, and implementation strategies to put what's been learned into effective practice. Access any of the 12 modules at anytime, or sign up for weekly emails to jumpstart learning and be part of a learning collaborative. 5 minutes per week is all it takes to start learning!
Visit the Public Health Pronto Learning Program
---
5 Minute MCH Monthly Series
As busy MCH professionals, we recognize the value of time and the importance of receiving quality, tailored information and resources quickly. With that in mind, we have designed a new program to improve your knowledge and skills of the 12 MCH Leadership Competencies. MCH Navigator conducts a monthly series that explores each competency, provides learning opportunities and implementation strategies, and culminates in an interactive learning session with an expert from the field.
Visit the 5 Minute MCH Monthly Series
---
New Online Self-Assessment Tool
The MCH Navigator has developed a new online self-assessment tool to support the Title V workforce in the states and the MCH community broadly. This tool helps identify your strengths and learning needs in the 12 MCH Leadership Competencies, matches your learning needs to appropriate trainings, and provides a customized learning plan to track your progress over time and guide you, your staff, and/or department in professional development activities.
Visit the Online Self-Assessment Tool
---
A Learning Portal for MCH Professionals
The MCH Navigator , a cooperative agreement with Georgetown University, is a learning portal for maternal and child health professionals, students, and others working to improve the health and well being of women, children, and families.
Project Overview
The MCH Navigator project was launched by the Maternal and Child Health Bureau (MCHB) in early 2010 to address the professional development needs of the field. As budget reductions are shrinking funding for training-related time, cost, and travel, online resources are an effective alternative for continuing education. 
The MCH Navigator is a centralized portal for pursuing continuous learning in maternal and child health and is designed to help emerging and established MCH professionals map professional growth pathways, locating:
Where they are now – whether a student or an established professional,
Where they want to be – identifying the skills and competencies necessary for organizational and personal goals, and
The best route to get there – linking to targeted and effective learning resources.
The MCH Navigator seeks to enhance access to currently available public health MCH learning resources by "matching" learner needs with learning paths. This initiative is intended to complement, and not be a substitute for, formal institutionally-based undergraduate or graduate education programs in maternal and child health.
For more information, please send us an email.
---
MCH Navigator Receives Prestigious Award!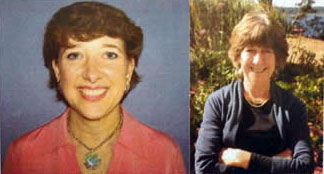 Laura Kavanagh and Holly Grason were honored with the MCH Effective Practice Award, given by the MCH Section of the American Public Health Association (APHA) at the 2014 Martha May Eliot Luncheon. The award recognized the vision and dedication that they, and the original design team, showed in the development of the MCH Navigator.
Related Links & Resources