Not all deliveries and births go as we would hope. It is in those times that doula support can lead to better care for moms.
A story of how the strength of a mother and the support of a doula leads to transformation after the loss of a child.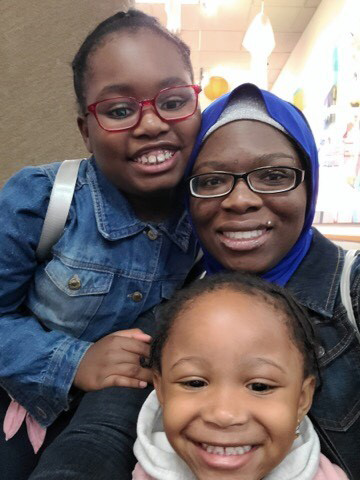 Jeannette, pregnant with her second little girl back in 2016, participated in the By My Side Birth Support Program through Healthy Start Brooklyn in the New York City Health Department. Regina became Jeannette's doula and the two got to know each other during the prenatal period. 
Everything was normal for Jeannette during her pregnancy…until it wasn't. About 6 weeks before her due date, Jeannette went to a prenatal visit. "When the doctor told me there was no heartbeat, I just looked at the ultrasound screen and couldn't even catch what he was telling me. Regina was the first person I called, but the call went to her voicemail." The nurses isolated Jeannette at the end of the labor and delivery ward, far from the other moms. The doctor induced labor. Her mom was home, watching her 2-year-old. The baby's father soon came to her side but couldn't muster any words and kept leaving her side. "That physical isolation matched my emotional isolation," Jeannette explained.
Regina, on an airplane, didn't receive Jeannette's voice message until she landed and turned on her phone. "I wished I could climb over the rows of seats to get off the plane and get to Jeannette at the hospital." Regina had been a doula for nearly 20 years and had supported doula colleagues whose clients had lost babies, but this was her first time experiencing the loss so directly. The support would prove different this time, and she had a good cry herself, gathered her thoughts and her approach—she had taken training through the years in the specialty niche of grief doula support—before arriving at Jeannette's side.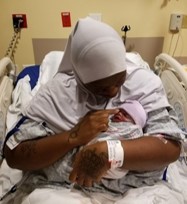 Jeannette describes, "No one knew what to say to me, not even my mom. But Regina…I felt the love and support from her." Regina held her hand, told her it was going to be okay. She put on soft music and a diffuser. She held a quiet space for Jeannette to cry and offered gentle touch to reassure her. And Regina prepared Jeannette for what was to come in this physically and emotionally grueling process. Regina was able to help Jeannette move into different positions to progress the labor and ease the pain. She told Jeannette what her options were, including holding her baby and taking pictures. She wanted to make sure Jeannette knew her choices so that there would be less opportunity for regret later. 
When baby Empress was born, Jeannette did hold and adore her. Regina took pictures, and then Jeannette asked Regina, "Do you want to hold my baby?" Regina felt honored to hold Empress, her first "baby born sleeping." Jeannette says, "Maybe other moms experiencing this loss did things differently, but I am forever grateful that Regina thought to ask me whether I wanted to hold my baby and take her picture. It is now one of my greatest treasures."
The grief continued, and Regina connected Jeannette to resources for pregnancy and loss. Jeannette later became pregnant and was "blown away, angry, and scared." She told her family and friends to ask about her, not the pregnancy. "I wouldn't talk to my baby or interact. I just couldn't raise my hopes again until Regina's relentless gentle encouragement helped me to have the courage to begin to talk to my growing baby and to touch my belly." Slowly Jeannette changed and hope emerged. On Thanksgiving Day in 2019, Jeannette and big sister Queen-Kamara welcomed Laila into the world with the support of Regina. The labor did not progress until Regina arrived that day at Jeannette's side. Jeannette explains, "Laila wanted to come out and meet the woman [Regina] who had been talking to her and interacting with her and made her mommy come alive."
Jeannette effusively describes Regina's continued care. She treasures Empress's life and "wants others to know about her." When she learned she is pregnant this year, she immediately reached out to Regina. Though Regina is now the director of By My Side, she jumped at the opportunity to be side by side in this pregnancy with Jeannette. Jeannette chimes in, "I'm excited all over again with her. Her support is just amazing, and we blend so well like tea and sugar. No one understood my needs as well as she did and does."
Update: This story was originally told in April 2023. In late July 2023, Jeannette gave birth to a healthy baby boy. Mom, baby, and family are doing well.
Learn more about the how HRSA invests in doula care and other efforts to improve maternal health outcomes by visiting the HRSA Maternal and Child Health Bureau (MCHB) and its Healthy Start, Alliance on Maternal Health, Home Visiting, State Maternal Health Innovation , Women's Preventive Services Initiative Programs, and the National Maternal Mental Health Hotline.